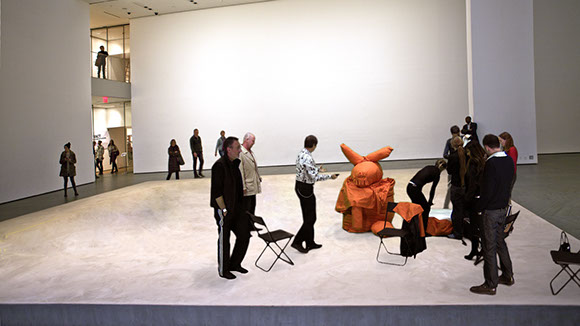 4 sketches of the installation in a place "A" and "B"
In two separate places of an exhibition the visitors find an identical installation: A large box with the word
"Tortoise" written on it, a monitor and a camera. It looks as if the camera is filming the visitors in both places and as if each recording is shown on the monitor of the other place. So the visitors assume they can watch what happens in the other place. It seems they can even interact.
In fact the video was recorded in a greenbox studio, was keyed and is combined with the exhibition space as back-ground. In the video several persons act as visitors of the exhibition. They find the same box as in the installation, but with the writing "Hare" on it. They decide to open the box. It contains orange cotton. The visitors start to build a huge orange hare.
Again and again the actors communicate with the viewers in the other place and ask them to come over and join them.
If the onlooker does so he will see the same group building the hare in the place he came from, - Hare and Tortoise.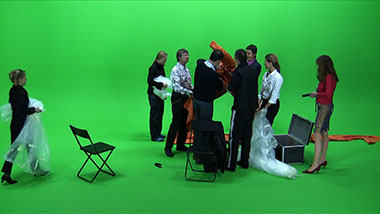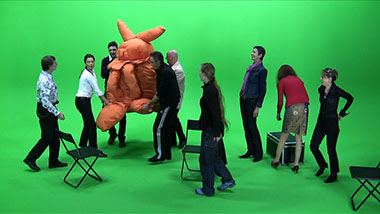 Stills from the greenbox video, 27:00 min loop
The video is keyed and mounted with the two views of the exhibition space.
Credits
Greenbox studio: Screencraft Studio Munich, Atze Heiss
Actors:
Irmin Beck, Bettina Brunckhorst, Melanie Girdlestone, Werner Josten, Sabine Klem, Birgit Kobold, Gabriele Lemos, Kirsten Lilli, Klaus Linhardt, Christoph Nicolaus, Michael Mayr, Thomas Wecker
Hare and Tortoise, short version with subtitles, low resolution, 5:36 min