What is beautiful, good or the best is not what becomes the ideal. Far more, the thing that is accepted as the ideal is beautiful, good or the best. Ideals are rooted in culture. They work only as long as they are partially or virtually unattainable for most people. They must be recognised by everybody in the group. Often, codes and status symbols act as signs that they have been reached. Designer clothing and uniform insignia are but two examples.
Adam & Eve, photographic print, 40 x 80 inch
If every member of a group strives to approach – and ultimately achieves – the group's ideals, everybody will end up the same. There will be no more individuals. And nor, for that matter, will there be any more ideals. Because an ideal is, by definition, a standard that most people cannot fulfil. One can at most aspire to it. But not even that really happens because at some stage, certain people begin to notice that their individuality is at risk and their ideals are being debased. So they stop aspiring to them. They begin instead to add their own individual touches. With time, their countermovement generates new ideals that group members once again set out to fulfil. Sometimes the new ideals even generate new groups…. in a never-ending process.
Rough and accelerated demonstration of the changes in the 14-channel video installation: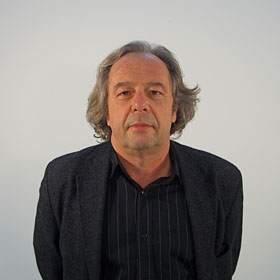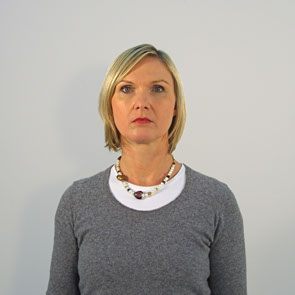 Rather than representing modern-day beauty ideals, the figures of Adam and Eve in this work are my own arbitrary symbols for ideals. They embody the ever-changing ideals of a group.
For this project, I photographed seven men and seven women and specifically asked them not to try and "look their best". Instead, I asked them to feel present in spirit and body, but to feel independent of their looks or appearance.
I took portrait photographs of them which I then processed digitally to produce sequences. These show the seven men and seven women gradually growing to resemble each other. Ultimately, all the men turn into identical figures of Adam and all the women turn into indistinguishable Eves. As artificial figures, Adam and Eve represent ideals. Once these ideals have been achieved, the reverse process sets in; the men and women become more and more individual again.
In total, the fourteen film sequences consist of around two thousand individual images. En route to becoming Adam or Eve, each figure undergoes a change process comprising seventy-two stages and lasting six minutes. Each transformation cycle consists of one hundred and forty-two images and runs simultaneously with the others. Together, the seven men and seven women become Adam and Eve. And together they are restored to Roman, Frank, and Hubert…, Daniela, Barbara and Heidi…