Performance with 7 men and 7 women during an opening, 2009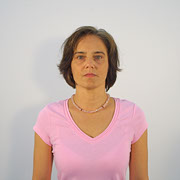 What would happen if seven men and seven women appeared at the opening reception for the exhibition looking like >> Adam and Eve from the video project and mingled with the crowds just like normal guests?
I set a new code and watch, if it will be noticed. My virtual Adam and Eve project spilles over into reality.
The men wear black T-shirts, jeans and green trainers, the women pink T-shirts, rose quartz necklaces, black trousers and black shoes. All in all, their clothing is unobtrusive and not particularly fashionable. They are noticeable only by their sheer numbers and because they are wearing the same as the Adam and Eve figures in the video installation. The performance takes place unannounced. The Participants are briefed to react with surprise when asked about their identical outfits.
1. Performance on 20 March 2009 on Praterisland (Munich/Germany)
Fotos by Werner Josten
2. Performance on 14 January 2011, Artists Forum, Bonn/Germany
By and large the guests failed to spot anything unusual.